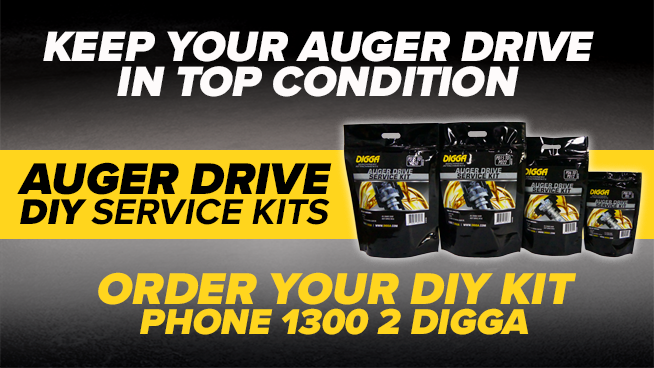 DIY Auger drive service kits now available
Much like your car, your Digga auger drive needs to be serviced periodically to remain in an optimal working condition and avoid unnecessary wear or attachment failure. Specially designed for earthmoving applications, our oils lubricate and protect against severe load; reducing scuffing, pitting, and abrasive wear of the gears in your drive unit. A gear which has been serviced as per the operator's manual will show no more than bed-in wear after 10 years of augering. The same gear, submitted to the same work, with the oil changed only once within the same period, will show noticeable wear upon inspection (with no decrease in performance). This gear will however deteriorate quickly, and eventuate in total drive unit failure. Click here to learn more about servicing of your Digga drive unit.

We understand that from time to time, it may be difficult to transport your drive unit to a certified Digga service centre. For that reason, Digga has made a step-by-step DIY Auger Drive Service Kit available specific to your Digga drive, which can be purchased to help you maintain a regular servicing schedule, and guarantee the longevity of your attachment. You can also take advantage of our YouTube playlist which is dedicated to providing you with practical 'how-to-guides' and tips, covering many essential aspects of your Digga attachment.

Order your next DIY Auger Service Kit today and quote the part number as shown on the list below. Alternatively, contact you nearest Digga branch on 1300 4 DIGGA to book your next auger drive service.
Order a Digga DIY Service Kit
Kit type
Auger drives
Kit number
Kit Inclusions
PDD-PD5
Instruction guide
Gear oil -1L
Shaft seal
O-rings
Tab washer
Next service sticker
PD6-PD12
PD4HF-PD10HF
Instruction guide
Gear oil - 2.5L
Shaft seal
O-rings
Next service sticker
PD15-PD20
Instruction guide
Gear oil - 5L
Shaft seal
O-rings
Next service sticker
PD25-PD50
Instruction guide
Gear oil - 5L
Shaft seal
O-rings
Next service sticker