Dozer Blade - 2100mm & 2400mm lengths
Digga's Dozer Blade is a versatile attachment for dozing, levelling ground and general earthmoving work. Fixed as well as hydro electric angle / tilt models available.
3 models available; angle & tilt, angle only, and fixed blade
Large 3" center pivot pin with hardened steel bushings
Central pivot point maintains blade in front of the loader
Reversible and replaceable 3/4" x 200mm bolt-on cutting edge
Only 1 set of machine remotes required
Option to use your machine's joystick to control the blade with a plug 'n' go electrical kit
Australian made quality
Ideal Use
Earthmoving, landscaping, roadworks and more.
Machine Suitability
Multifit and Cat skid steer loaders. Bolt-on frame solutions available for 2100mm Dozer Blades to suit other machine makes and models.
Features & Benefits
Digga's Dozer Blade comes packed with practical features. Hover your mouse over the features´ 'plus' symbol on the diagram below to reveal the respective benefits.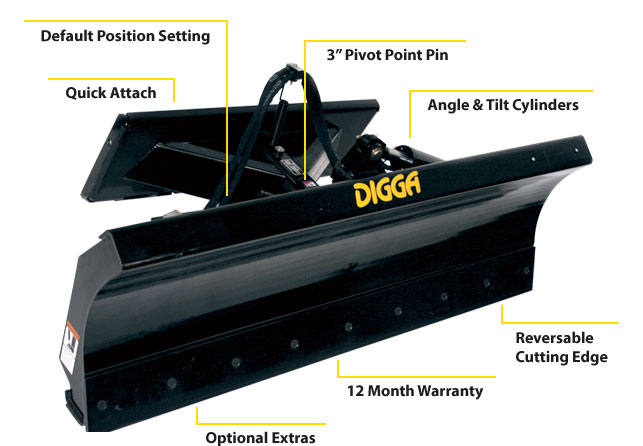 Dozer Blade Specifications
Specification
2100mm
Model
FIXED BLADE
ANGLE ONLY
ANGLE & TILT
Angle Tilt
N / A
N / A
±14°
Angle (Left & Right)
N / A
±30°
±30°
Width (15° Angle)
N / A
2082 mm
2082 mm
Width (30° Angle)
N / A
1880 mm
1880 mm
Width (Overall)
2133 mm
2133 mm
2133 mm
Length (Overall)
840 mm
840 mm
840 mm
Height (Overall)
725 mm
725 mm
725 mm
Weight
283 kg
475 kg
519 kg
Specification
2400mm
Model
FIXED BLADE
ANGLE ONLY
ANGLE & TILT
Angle (Left & Right)
N / A
30°
30°
Width (15° Angle)
N / A
2318 mm
2318 mm
Width (30° Angle)
N / A
2078 mm
2078 mm
Width (Overall)
2400 mm
2400 mm
2400 mm
Length (Overall)
940 mm
940 mm
940 mm
Height (Overall)
762 mm
762 mm
762 mm
Weight
315 kg
507 kg
590 kg