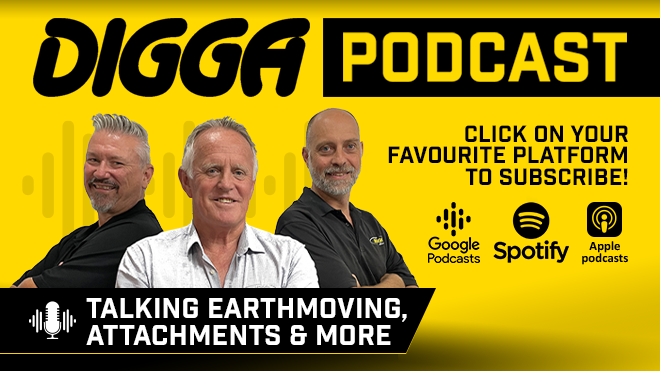 Listen to the latest podcast
On this episode, our Digga podcasters sit together to chat about the reasoning behind purchasing Kanga Loaders, the auger alignment system HALO, trademark infringement, and much much more!
In this episode, our panel cover all things 'screw anchor drives', with special guest - North American sales manager, Beau Ellingson! The guys chat about what screw piles are used for, and what machines you need to install them. Beau takes you through the process of choosing the perfect screw anchor drive, and what information Digga uses to determine which drive is perfect for your job.
This time, our Digga podcasters sit together to chat about tradeshows they have attended in the past - both internationally and in Australia, and what they have experienced along the way.
Our panel cover all things auger drives. They discuss suitability to your machine type and performance, tips on how to avoid costly repairs, as well as a how the auger drive has developed technologically throughout the years.
In this episode, our panel covers many aspects of drilling augers. They discuss cutting head design, which teeth to use for specific ground conditions, and drilling in rock. We share some tips to improve your drilling performance, and how to maintain your equipment. Alan and Anthony also share a few funny stories from their days selling augers.
For our first podcast, we thought to introduce the panel, and talk about Digga's 40 year history. When you finish listening, don't forget to follow us on socials.
Welcome to the Digga Podcast – where we talk about all things Earthmoving Attachments. Join Digga CEO Alan Wade, product specialist Anthony Wieckmann, and head of marketing Lionel Smitka, for a blend of helpful information, interviews, and funny stories from the past 40 years.