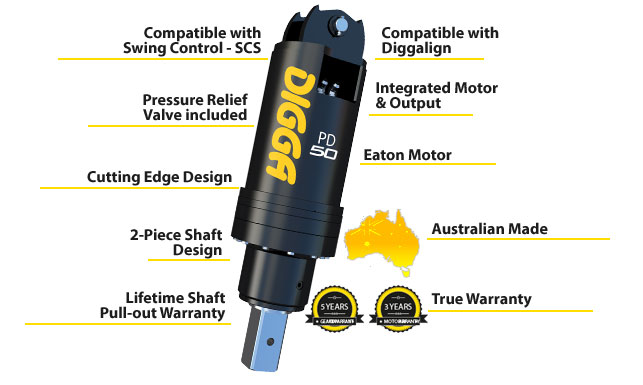 Auger drives for 20-28 tonne excavators
Digga's series of premium auger drives designed for 20-28 tonne excavators form a comprehensive portfolio for foundation boring, post hole drilling, horizontal boring & utility markets. All our auger drives are manufactured right here in Australia, specifically to endure the diverse world-wide landscape.

The 'PD' (Premium Drive) range of drilling drives has been the workhorse of the industry - With innovative ground-breaking design features that keep it ahead of the game; such as the development of the Digga/Danfoss Bell motor, which was specifically designed for Digga attachments, utilising DANFOSS Geroler technology, significantly reducing the weight, and overall length of the auger drives.
Learn about auger drives
Pair your drive to suit your machine type and achieve optimum performance, find out how to avoid costly repairs, and how the auger drive has technologically developed over the years.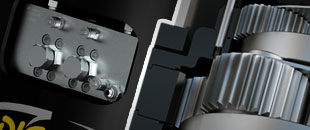 Compact & powerful
Digga's range of drilling drives was developed for the professional driller - utilising Geroler technology by Danfoss, the drives design significantly reduces weight whilst delivering outstanding performance.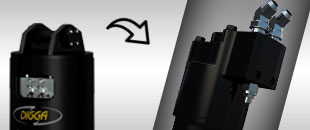 Industry leading performance
By utilising the Danfoss Bell motor, the auger drive will accept 25kW of power, with a max pressure of 240bar (at 60lpm), delivering exceptional power-to-speed ratio when coupled with the industry leading Digga planetary gearbox.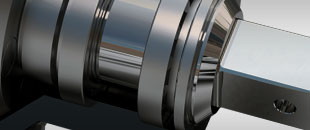 Advanced design
The Digga gearbox utilises a two-piece shaft design, the shaft is a separate component to the planetary carrier, isolating the planetary gears from the pushing, pulling, and bending forces generated by the host machine.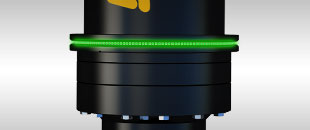 Precision accuracy
The new innovative Halo alignment system ensures holes are drilled plumb and reduces the need for in-hole angle adjustments. The highly visible LED indicator wraps around the Auger drive and will shine green when straight, allowing you to never take your eyes off the job to realign your auger.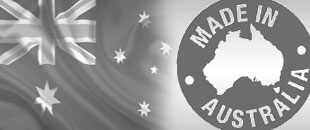 Australian made quality
Digga drive units are made right here in Australia from quality materials. Digga is a proud Australian manufacturer committed to keeping jobs in the country.
| Specification | PD25 | PD30 | PD40 | PD50 |
| --- | --- | --- | --- | --- |
| Rec Flow Range | 120-230lpm | 120-230lpm | 120-230lpm | 120-230lpm |
| Max Torque | 26,267Nm | 30,543Nm | 33,041Nm | 38,420Nm |
| Motor | 6K Geroler | 6K Geroler | 6K Geroler | 6K Geroler |
| Pressure Valve Fitted | Included | Included | Included | Included |
| Energy Control Valve | Optional | Optional | Optional | Optional |
| Case Drain Required | No | No | No | No |
| Max Pressure | Do not exceed 240bar @ 130lpm | Do not exceed 240bar @ 130lpm | Do not exceed 240bar @ 130lpm | Do not exceed 240bar @ 130lpm |
| Max Flow | Do not exceed 230lpm @ 130bar | Do not exceed 230lpm @ 130bar | Do not exceed 230lpm @ 130bar | Do not exceed 230lpm @ 130bar |
| Max Power | Do not exceed 50Kw (67 hp) | Do not exceed 50Kw (67 hp) | Do not exceed 50Kw (67 hp) | Do not exceed 50Kw (67 hp) |
| Overall Length | 1152mm | 1152mm | 1152mm | 1152mm |
| Diameter | 355mm | 355mm | 355mm | 355mm |
| Weight (no frame/hitch) | 300kg | 300kg | 300kg | 300kg |
| Std Output Shaft | 100mm Square | 100mm Square | 100mm Square | 100mm Square |
| Swing Control | Optional | Optional | Optional | Optional |
| Diggalign | Optional | Optional | Optional | Optional |
| Halo | Optional | Optional | Optional | Optional |
| Rec Auger | 8 / 10 & 11 Series | 8 / 10 & 11 Series | 8 / 10 & 11 Series | 8 / 10 & 11 Series |
| Max Auger Dia Clay/Shale | 1200mm | 1200mm | 1500 | 1500 |