Digga manufacturing factory tour
Welcome to Digga's main manufacturing facility in Yatala Queensland, located halfway between Brisbane and the Gold Coast. Below are various videos and tours of our state of the art facility, ranging from a guided factory tour with our product manager, to 360 degree tours, and why you should consider buying Australian made.
Guided tour with Digga's product manager
Come on a guided tour with our Product Manager Anthony, as he takes you through our Gold Coast facility in Queensland like you were there with him. Check out why this is one of the most advanced facilities in QLD.
Australian made
Why should we be buying Australian made? Purchasing from an Australian manufacturer is much further reaching than you could imagine. It means you are also supporting local suppliers, and small businesses throughout the entire community - Your family, friends, and loved ones.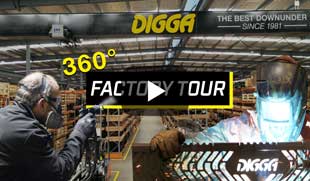 360° Self-guided factory tour
Roam around the factory by yourself, and at your own pace! Click left to be beamed straight into the midst of our Queensland facility.
360° Factory tour
Exclusive insights into our factory! Check out the Digga Queensland manufacturing facility. With our 360 degree video, we take you through the various production areas; from machining to lazer, welding & paint bays, to assembly, and dispatch.
Digga manufacturing history
Quality Australian manufacturing is really something unique these days. To design, engineer, test, develop, and create a product from its very beginning, is something to be proud of. At Digga, we do just this, to provide you and the earthmoving industry with quality products and custom solutions. Watch this video to learn a bit more about our history.
---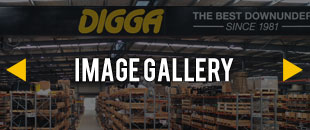 View our image gallery
If you are unable, or simply don't have the time to go through our factory tour videos, take a quick look at Digga's manufacturing facility through our image gallery.
---