Drilling Buckets
Drilling buckets are used for drilling in cohesive and non-cohesive soil below groundwater level. Digga's drilling buckets are suitable for breaking and ripping hard soil up to medium hard rock. Digga Drilling Buckets boast a heavy duty construction and come fitted with a Kelly Box (drive hub) to suit your machine. Its design allows for a manual hand-operated, or automatic opening mechanism to be fitted (for emptying)- For drill rigs fitted with striker plate.
Heavy duty construction with provision for reamer bars
Comes fitted with Kelly Box (drive hub) to suit your machine
7 digging configurations from single start bladed to rock, as well as combination tooth solutions
Opening mechanism options include manual hand-operated
or fully automatic (suits drill rigs with striker plate fitted)
Base options include swivel and valve style
Specialised buckets including rock and earth available
Other tooth options available upon request
Features & Benefits
Digga soil and rock drilling buckets are made from the highest grade materials and boast many practical features. Hover your mouse over the features´ 'plus' symbol on the diagram below to reveal the respective benefits.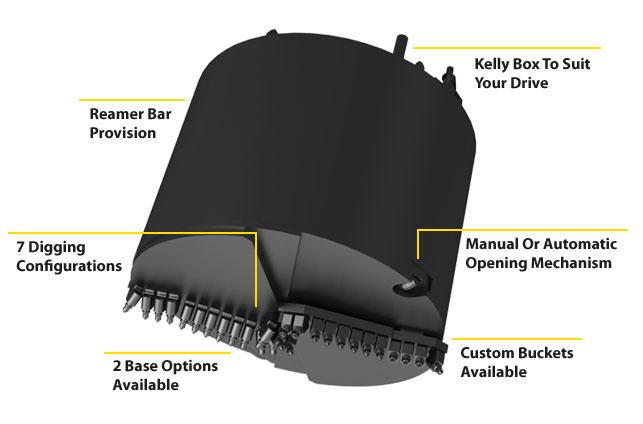 Drilling Bucket Specifications
Model
300mm
400mm
450mm
500mm
600mm
Cutting Diameter
300mm (12")
400mm (16")
450mm (18")
500mm (20")
600mm (24")
Overal Length
1500mm (60")
1500mm (60")
1500mm (60")
1500mm (60")
1500mm (60")
Base Type
Valve
Swivel / Valve
Swivel / Valve
Swivel / Valve
Swivel / Valve
Hub Options *
5
5, 7
5, 7, 9
5, 7, 9
5, 7, 9
Teeth
19 / 25mm
Rotating Pick
19 / 25mm
Rotating Pick
19 / 25mm
Rotating Pick
19 / 25mm
Rotating Pick
19 / 25mm
Rotating Pick
Model
750mm
900mm
1000mm
1050mm
Cutting Diameter
750mm (30")
900mm (36")
1000mm (40")
1050mm (42")
Overal Length
1500mm (60")
1500mm (60")
1500mm (60")
900mm (36")
Base Type
Swivel / Valve
Swivel / Valve
Swivel / Valve
Swivel / Valve
Hub Options *
5, 7, 9
5, 7, 9
5, 7, 9
5, 7, 9
Teeth
19 / 25mm
Rotating Pick
19 / 25mm
Rotating Pick
19 / 25mm
Rotating Pick
19 / 25mm
Rotating Pick
Model
1200mm
1500mm
1800mm
2000mm
Cutting Diameter
1200mm (48")
1500mm (60")
1800mm (72")
2000mm (80")
Overal Length
900mm (36")
900mm (36")
900mm (36")
900mm (36")
Base Type
Swivel / Valve
Swivel / Valve
Swivel / Valve
Swivel / Valve
Hub Options *
5, 7, 9
5, 7, 9
5, 7, 9
5, 7, 9
Teeth
19 / 25mm
Rotating Pick
19 / 25mm
Rotating Pick
19 / 25mm
Rotating Pick
19 / 25mm
Rotating Pick