Excavator — Xtreme Drive 260,000Nm - 500,000Nm
Digga's Xtreme Drive range of screw anchor drives produce between 260,000Nm and 500,000Nm. Fitted with our patented anti-kickback valve, which controls the rapid decompression of oil caused during the application of foundation piles, you'll get maximum life and performance. Using only superior quality, highly volumetric efficient hydraulic motors, Digga anchor drives can be fitted with a selection of motor options to efficiently utilise the total available horsepower of your machine. Delivering consistent and efficient pile installation throughout your working day, more lineal metres in the ground, and maximum returns.
Compact high quality Digga manufactured gearbox
Highest volumetrically efficient motors available
Extreme duty shaft locking system
No complex hoses, valving, or filtration
2 Speed drives available up to 300 lpm (peak) no machine detuning necessary
1yr gear box and 1yr motor warranty
Features & Benefits
Digga drives come packed with really practical features like cutting edge design and a 2 piece shaft just to name a few. Hover your mouse over the features´ 'plus' symbol on the diagram below to reveal the respective benefits.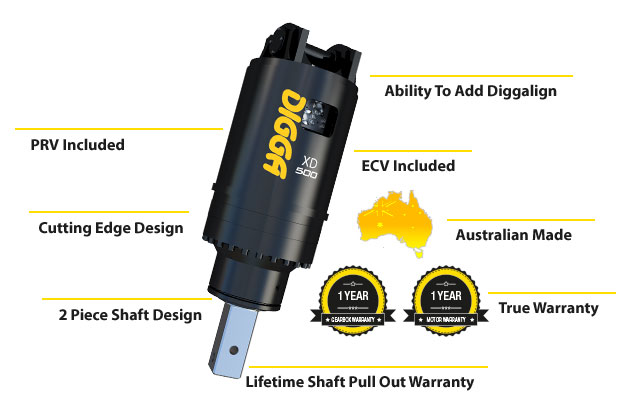 Xtreme Drive Screw Anchor Drive Specifications
Specification
xd270
xd310
xd410
xd500
Max Torque
259,803 Nm
304,646 Nm
398,602 Nm
480,458 Nm
Max Pressure
- - - - - - - - - - Do not exceed 240 bar @ 380 lpm - - - - - - - - - -
Max Flow
- - - - - - - - - - Do not exceed 380 lpm @ 240 bar - - - - - - - - - -
Max Power
- - - - - - - - - - - - Do not exceed 150 Kw - - - - - - - - - - - - -
Motor
Radial Piston
Radial Piston
Radial Piston
Radial Piston
PRV
Included
Included
Included
Included
ECV
Included
Included
Included
Included
Diggalign
Optional
Optional
Optional
Optional
Overall Length
2410 mm
2410 mm
2410 mm
2410 mm
Diameter
820 mm
820 mm
820 mm
820 mm
Weight
2878 kg
2878 kg
2878 kg
2878 kg
Std Output Shaft
200 mm Square
200 mm Square
200 mm Square
200 mm Square