Excavator / Backhoe Auger Drives 5T-10T
Digga's PD5 to PD10HF range of earth drills are ideally suited for Backhoes and Excavators with a flow between 55 to 200 lpm. Innovative design allows the gearbox to go down the hole to maximise drilling depth without extentions, eliminating downtime and minimises maintenance, optimising your returns. Digga planetary auger drives are fitted with Digga/Danfoss bell motors specially designed for drilling and augering in most ground conditions.
Compact high torque Digga manufactured gearbox
Highly efficient design with less moving parts
Fitted with a DIGGA Bell Motor by Danfoss
No case drain required on excavators
Full range of shafts available upon request
Extreme duty shaft locking system
Low maintenance with 5yr gear box and 3yr motor warranty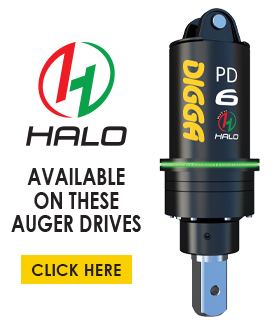 Features & Benefits
Digga drives come packed with really practical features like top mounted hose ports, cutting edge design, and a 2 piece shaft just to name a few. Hover your mouse over the features´ 'plus' symbol on the diagram below to reveal the respective benefits.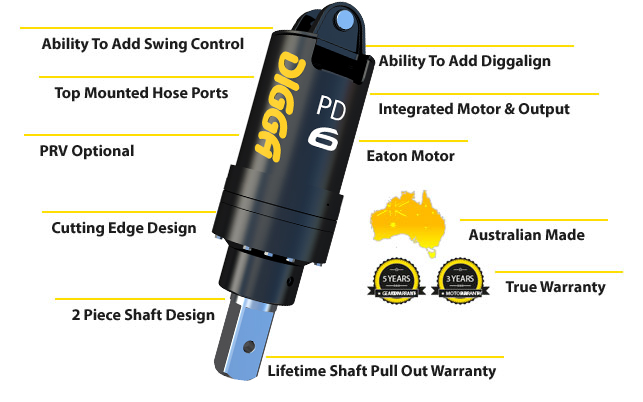 Premium Drive Specifications
Specification
pd5
pd6
pd7
pd6hf
pd8hf
pd10hf
Rec Flow Range
60-95 lpm
70-115 lpm
75-115 lpm
60-150 lpm
80-200 lpm
100-200 lpm
Nominal Torque
5151 Nm
5596 Nm
6040 Nm
5634 Nm
7136 Nm
9690 Nm
Motor
2K Geroler
2K Geroler
2K Geroler
6K Geroler
6K Geroler
6K Geroler
Pressure Valve Fitted
Optional
Optional
Optional
Included
Included
Included
Energy Control Valve
N / A
N / A
N / A
Optional
Optional
Optional
Case Drain Required
Case drain recommended for backhoe loaders.
Not required for excavators.
Max Pressure -
Do not exceed
240 bar @ 60 lpm
240 bar @ 130 lpm
Max Flow -
Do not exceed
115 lpm @ 130 bar
210 lpm
@ 145 bar
230 lpm
@ 130 bar
230 lpm
@ 130 bar
Max Power -
Do not exceed
25 Kw (34 hp)
50 Kw (67 hp)
Overall Length
579 mm
730 mm
734 mm
950 mm
950 mm
950 mm
Diameter
240 mm
240 mm
240 mm
290 mm
290 mm
290 mm
Weight (no frame / hitch)
67 Kg
89 Kg
90 Kg
149 Kg
149 Kg
149 Kg
Std Output Shaft
75 mm Square
75 mm Square
75 mm Square
75 mm Square
75 mm Square
75 mm Square
Swing Control
Optional
Optional
Optional
Optional
Optional
Optional
Diggalign
Optional
Optional
Optional
Optional
Optional
Optional
Halo
Optional
Optional
Optional
Optional
Optional
Optional
Rec Auger
6 Series
6 Series
6 Series
6 Series
6 Series
8 Series
Max Auger Dia Clay / Shale
900 mm
900 mm
900 mm
900 mm
1000 mm
1000 mm
Max Auger Dia Earth
1000 mm
1000 mm
1000 mm
1200 mm
1200 mm
1500 mm