4 in 1 Agricultural Bucket
Machine: All tractors including those with
standard euro hitch
Attachment: 4 in 1 Bucket
Class: Agricultural
An evolution from the tried and proven design of the Digga 4 in 1 Skid Steer Bucket. Updated to suit the needs of the agricultural industry, while still incorporating many of the features skid steer owners enjoy.
Standard Heavy Duty 16mm floors
20mm floors available on request
Light weight designed specifically for Agricultural machines
Full range available from 1500mm to 2200mm
Grabbing teeth profiled on both the front/rear overlap for greater grip of logs and other debris
Front bolt-on edge only available on ag buckets. A 20mm
floor is required for 2 or 3 edges.
Chisel or Tiger teeth - pin on design
Same fitment on tractor as the general purpose bucket
Features & Benefits
Digga 4 in 1 Agricultural bucket come packed with really practical features. Hover your mouse over the features´ 'plus' symbol on the diagram below to reveal the respective benefits.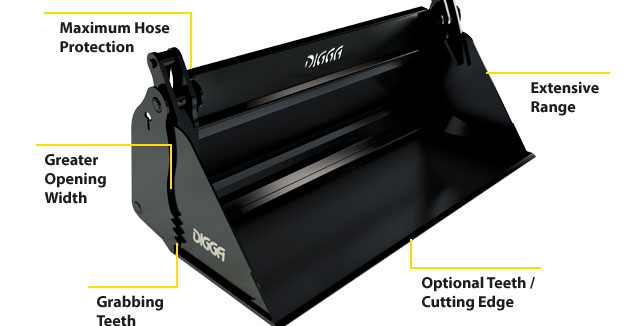 | Standard range | 1550 mm | 1600 mm | 1650 mm | 1680 mm | 1727 mm |
| --- | --- | --- | --- | --- | --- |
| Depth (Bucket Closed) | 826 mm | 826 mm | 826 mm | 826 mm | 826 mm |
| Bucket Cutting Width | 1550 mm | 1600 mm | 1650 mm | 1680 mm | 1727 mm |
| Height | 638 mm | 638 mm | 638 mm | 638 mm | 638 mm |
| Weight | 285 kg | 300 kg | 310 kg | 315 kg | 320 kg |
| Struck Volume | 0.22 m³ | 0.23 m³ | 0.24 m³ | 0.24 m³ | 0.25 m³ |
| Heaped Volume | 0.29 m³ | 0.30 m³ | 0.31 m³ | 0.32 m³ | 0.31 m³ |
| Standard range (cont) | 1800 mm | 1880 mm | 2000 mm | 2130 mm | 2200 mm |
| --- | --- | --- | --- | --- | --- |
| Depth (Bucket Closed) | 826 mm | 826 mm | 826 mm | 826 mm | 826 mm |
| Bucket Cutting Width | 1800 mm | 1880 mm | 2000 mm | 2130 mm | 2200 mm |
| Height | 638 mm | 638 mm | 638 mm | 638 mm | 638 mm |
| Weight | 330 kg | 340 kg | 360 kg | 380 kg | 390 kg |
| Struck Volume | 0.26 m³ | 0.27 m³ | 0.29 m³ | 0.31 m³ | 0.32 m³ |
| Heaped Volume | 0.34 m³ | 0.36 m³ | 0.38 m³ | 0.41 m³ | 0.42 m³ |