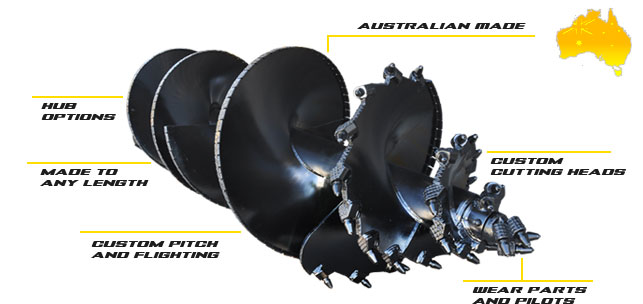 Custom builds are our speciality
With over 30 years of drilling knowledge and manufacturing experience, Digga can provide you with a custom auger solution for any drilling application. Constructed with the highest grade steel in Digga's fully equipped Australian owned and operated manufacturing facility, we ensure you're only getting Australian made quality and durability. Our experienced drilling specialists will help you in constructing the right auger for your needs. Everything from the right cutting head to flight and pitch configurations and also choosing the right wear parts and accessories. Need extra long flights? Visit our Continuous Flight Auger section.
Learn more about augers
Gain insight on correct drilling procedures, improving drilling performance, maintaining your equipment, cutting head design, and which teeth to use for varying ground conditions.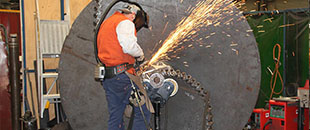 Australian made quality
Over 30 years of auger design and manufacturing using only the highest quality material has resulted in an extremely efficient cutting head design and optimum flight pitches to provide maximum soil removal in all ground conditions.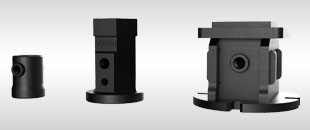 Hub Options
Square, round and hex hub options available to suit your existing drive unit or drilling rig.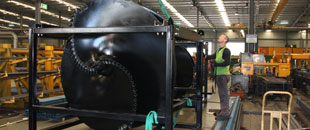 Size options
Your custom auger can be made to any length and to your preferred drilling diameter. To request an auger custom-made to suit your specific application, visit our Custom Auger Request page.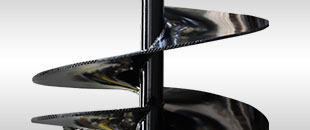 Pitch and flighting
Choose between a shallow pitch and a steep pitch configuration or even combination of both depending on the application. For optimum spoil removal, choose between a double start/single flight configuration or a full doubled flighted configuration. Need extra long flights? Visit our Continuous Flight Auger section.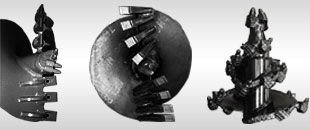 Cutting heads
The key to efficient drilling is the auger cutting head. Depending on the ground condition, choose between a bladed cutting head and a tapered cutting head design. You also have the option of a single cut or a double cut configuration.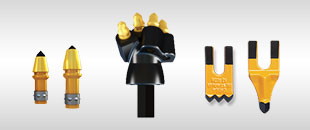 Wear Parts and pilots
Our extensive range of quality wear parts and pilots are designed to suit most ground conditions. Choose between flat/chisel, tapered tooth or rotating rock pick configurations.
Features and benefits
Replaceable pilots available in Tungsten or Multi Faced Tungsten
Square, round and hex hub options available to suit your existing drive unit or drilling rig
Custom augers can be made to any length and to preferred drilling diameter
Custom flighting and pitch configurations
Variety of cutting head solutions
Wide range of wearparts and pilots to suit most ground conditions
Australian Made Quality using superior materials