2 Speed High Flow for 28-50 tonne excavators
Digga's 2 speed high flow drilling auger drives for 28-50 tonne excavators have been designed for a wide range of applications. Offering a high speed, low torque setting for the smaller auger jobs when you need that extra RPM, and low speed, high torque for when you really need to grind out that larger diameter hole. It's like having 2 drive units in 1.

Digga's SD two speed drive range for drilling suits large excavators & truck cranes with flows up to 380 lpm.
Improved motor design & performance with 2 Speed options:

Low speed (low RPM) - High torque for large holes
High speed (high RPM) - Low torque for smaller holes

Suitable for a wide range of ground conditions:

Soft loose soils, hard soils, and rocky conditions

Integrated PRV (Pressure Relief Valve)
Simple electrical connection:

12 or 24 volt coil, just requiring connection
Optional joystick switches, floor mounted switches & cigarette plugs available pre-wired to suit

Low maintenance with 1yr gear box and 1yr motor warranty
Features & Benefits
Digga drives come packed with really practical features like cutting edge design and a 2 piece shaft with a lifetime pull-out warranty. Hover your mouse over the features´ 'plus' symbol on the diagram below to reveal the respective benefits.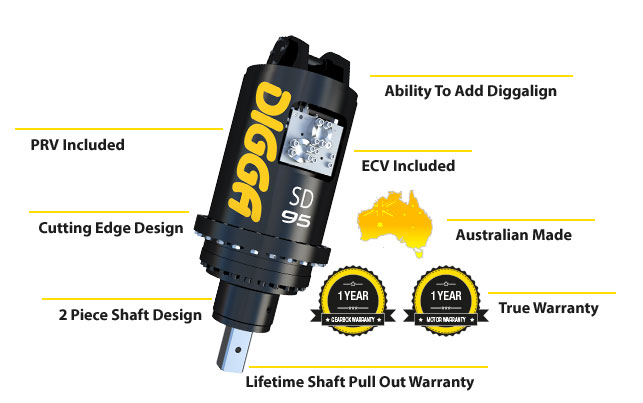 2 Speed SD Auger Drive Specifications
Specification
sd45
sd50
sd70
sd80
sd95
Max Torque @ 240 Bar
44,333 Nm
51,985 Nm
68,018 Nm
81,986 Nm
91,215 Nm
Motor
Radial Piston
Radial Piston
Radial Piston
Radial Piston
Radial Piston
Pressure Valve Fitted
Included
Included
Included
Included
Included
Energy Control Valve
Included
Included
Included
Included
Included
Case Drain Required
Yes
Yes
Yes
Yes
Yes
Max Pressure
Do not exceed 240 bar @ 380 lpm
Max Flow
Do not exceed 380 lpm @ 240 bar
Max Continuous Power
Do not exceed 150 kW
Overall Length
1493 mm
1493 mm
1493 mm
1493 mm
1493 mm
Diameter
600 mm
600 mm
600 mm
600 mm
600 mm
Weight (no frame / hitch)
838 kg
836 kg
836 kg
836 kg
843 kg
Std Output Shaft
100 mm Square
100 mm Square
100 mm Square
100 mm Square
100 mm Square
Diggalign
Optional
Optional
Optional
Optional
Optional
Rec Auger
11 Series
11 Series
11 Series
11 Series
11 Series
Max Auger Dia Fract. Rock
1500 mm
1500 mm
1500 mm
1500 mm
1500 mm
Max Auger Dia Clay / Shale
1500 mm
1500 mm
1500 mm
1500 mm
1500 mm
Max Auger Dia Earth
1800 mm
1800 mm
1800 mm
1800 mm
1800 mm