Diggalign Inclinometer
The New Diggalign inclinometer was developed for contractors where accuracy is key. Ideal for drilling, screw piling & core barrelling applications. Designed to show the operator when the top of the pylon/pile/auger is off plumb, and helps to maintain accuracy throughout the installation.
Features & Benefits
2 Options available

Standard Definition with increments in 2°
- Recommended for piles/augers under 4m (13ft)
High definition with increments in 0.5°
- Recommended for piles/augers over 4m (13ft)

Suits all machinery with a variety of harness lengths
Can be retrofitted to existing drives
Increased job site efficiency
Can be calibrated for angles up to 20°
Highlights misalignment forward and aft
Dual supply cable with both 12V and 24V
Features & Benefits
The Diggalign Inclinometer come packed with practical features as well as cutting edge design. Hover your mouse over the features´ 'plus' symbol on the diagram below to reveal the respective benefits.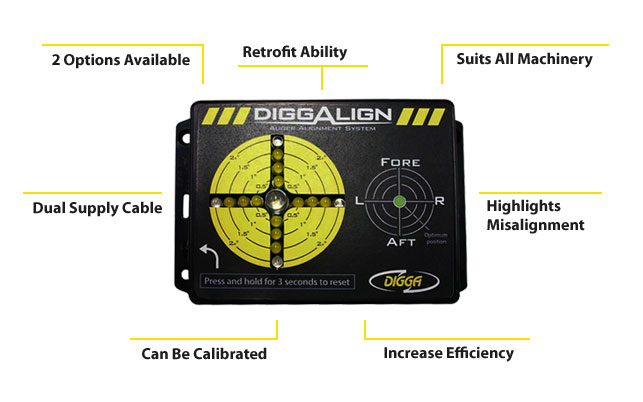 Diggalign Specifications
Specification
Weight
120 mm
Length
35 mm
Length (Overall)
93 mm
Height
146 mm