Cleaning Buckets
Cleaning Buckets are used to remove spoil from holes after drilling to create a clean base.

Digga Cleaning Buckets come fitted with a Kelly Box (drive hub) to suit your machine and can be fitted with a manual hand-operated, or automatic opening mechanism (for emptying) - For drill rigs fitted with striker plate.
Base options include swivel and valve style
Comes fitted with Kelly Box (drive hub) to suit your machine
High tensile cutting edge for a cleaner hole & longer life span
Custom buckets including combination & rock available
Opening mechanism options include manual hand-operated
and fully automatic (suits drill rigs with striker plate fitted)
Features & Benefits
Digga earth cleaning buckets are made from the highest grade of metal and boast many practical features. Hover your mouse over the features´ 'plus' symbol on the diagram below to reveal the respective benefits.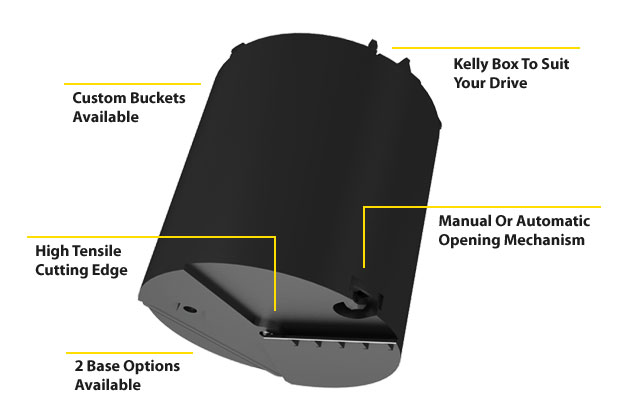 Cleaning Bucket Specifications
| Model | 400mm | 450mm | 500mm | 600mm |
| --- | --- | --- | --- | --- |
| Cutting Diameter | 400mm (16") | 450mm (18") | 500mm (20") | 600mm (24") |
| Overal Length | 1500mm (60") | 1500mm (60") | 1500mm (60") | 1500mm (60") |
| Base Type | Swivel / Valve | Swivel / Valve | Swivel / Valve | Swivel / Valve |
| Hub Options * | 5, 7 | 5, 7, 9 | 5, 7, 9 | 5, 7, 9 |
| Teeth | Blade | Blade | Blade | Blade |
| Model | 750mm | 900mm | 1000mm | 1050mm |
| --- | --- | --- | --- | --- |
| Cutting Diameter | 750mm (30") | 900mm (36") | 1000mm (40") | 1050mm (42") |
| Overal Length | 1500mm (60") | 1500mm (60") | 1500mm (60") | 1500mm (60") |
| Base Type | Swivel / Valve | Swivel / Valve | Swivel / Valve | Swivel / Valve |
| Hub Options * | 5, 7, 9 | 5, 7, 9 | 5, 7, 9 | 5, 7, 9 |
| Teeth | Blade | Blade | Blade | Blade |
| Model | 1200mm | 1500mm | 1800mm | 2000mm |
| --- | --- | --- | --- | --- |
| Cutting Diameter | 1200mm (48") | 1500mm (60") | 1800mm (72") | 2000mm (80") |
| Overal Length | 1500mm (60") | 900mm (36") | 900mm (36") | 900mm (36") |
| Base Type | Swivel / Valve | Swivel / Valve | Swivel / Valve | Swivel / Valve |
| Hub Options * | 5, 7, 9 | 5, 7, 9 | 5, 7, 9 | 5, 7, 9 |
| Teeth | Blade | Blade | Blade | Blade |