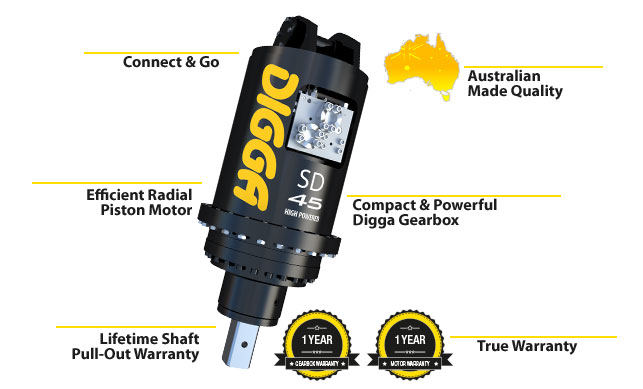 High powered auger drive
Our single speed high powered auger drive range has been designed to handle higher machine hydraulic pressures and deliver more power at higher RPM, to suit drilling applications for machines up to 50 tonnes. Fitted with a high efficiency radial piston motor and integrated input housing, these drives will help you increase productivity and reduce downtime to optimise your returns.

Digga's series of high-powered compact planetary drives form a comprehensive portfolio for the foundation boring, post hole drilling, and horizontal boring & utility markets. All our auger drives are manufactured right here in Australia, specifically for the diverse world-wide landscape - They are the ideal drilling drives for the discerning operator.

The 'HP' (High Power) range of drilling drives was developed for the professional driller - The standard Geroler hydraulic motor has been upgraded to a high efficiency, high power capacity SAI radial piston type, that delivers outstanding performance.

By utilising the radial piston motor, the auger drive will accept 90kW of power, with a max pressure of 345bar (at 174lpm), delivering exceptional power-to-speed ratio when coupled with the industry leading Digga planetary gearbox.

Our gearboxes are made with precision-machined gears (by Digga), from specialised high grade alloy steel. The highly efficient pressurised gearbox ensures no leaks, and minimal maintenance, and its compact design allows for greater clearance under the drive for augers or extensions, and also safer material handling on and around sites.

The Digga gearbox utilises a two-piece shaft design. It is a separate component to the planetary carrier, isolating the planetary gears from the pushing, pulling, and bending forces generated by the host machine, and comes with lifetime shaft pull-out warranty. Our gearboxes bring you the added peace of mind, knowing you have the highest shaft pull-out rating in the industry, with heavy duty custom designed and Digga manufactured lock nuts.
Learn about auger drives
Pair your drive to suit your machine type and achieve optimum performance, find out how to avoid costly repairs, and how the auger drive has technologically developed over the years.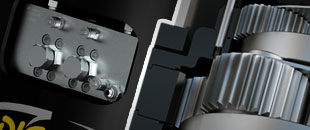 Compact & powerful
Digga have been designing and manufacturing drilling gearboxes for over 30 years. Unlike others who have to adapt to off-the-shelf componentry for their gearboxes, we design every component for its intended purpose, resulting in a much more compact and powerful drive.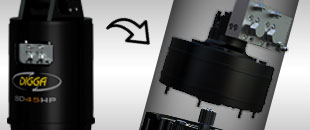 Efficient & reliable
A highly reliable motor high in power yet low in maintenance, delivering faster drilling speeds at high torque. No need to sacrifice speed for torque or torque for speed.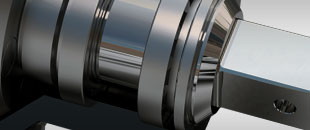 2-Piece shaft design
A two-piece shaft design isolates the planetary gears from excessive side load. Oversized thrust washer and lock nuts secure the shaft. This promotes easy seal changes and servicing. Our shaft design prevents the shaft from falling out, even under continuous use.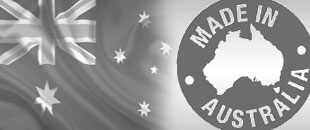 Australian made quality
Digga drive units are made right here in Australia from quality materials. Digga is a proud Australian manufacturer committed to keeping jobs in the country.
| Specification | PD30 HP | SD45 HP | SD55 HP |
| --- | --- | --- | --- |
| Max Torque @ 345 Bar | 30, 250 Nm | 44, 150 Nm | 57, 750 Nm |
| Motor | Radial Piston | Radial Piston | Radial Piston |
| Pressure Valve Fitted | Optional | Optional | Optional |
| Energy Control Valve | N / A | N / A | N / A |
| Case Drain Required | Yes | Yes | Yes |
| Max Pressure | Do not exceed 345 bar @ 174 lpm | Do not exceed 345 bar @ 174 lpm | Do not exceed 345 bar @ 174 lpm |
| Max Flow | Do not exceed 240 lpm @ 230 bar | Do not exceed 240 lpm @ 230 bar | Do not exceed 240 lpm @ 230 bar |
| Max Continuous Power | Do not exceed 90Kw/120hp | Do not exceed 90Kw/120hp | Do not exceed 90Kw/120hp |
| Overall Length | 1221 mm | 1274 mm | 1274 mm |
| Diameter | 460 mm | 530 mm | 530 mm |
| Weight (no linkage / hitch) | 453 kg | 646 kg | 646 kg |
| Std Output Shaft | 100 mm Square | 100 mm Square | 100 mm Square |
| Diggalign | Optional | Optional | Optional |
| Rec Auger | 11 Series | 11 Series | 11 Series |
| Max Auger Dia Fract. Rock | 1500 mm | 1500 mm | 1500 mm |
| Max Auger Dia Clay / Shale | 1500 mm | 1500 mm | 1500 mm |
| Max Auger Dia Earth | 1800 mm | 1800 mm | 1800 mm |