Slasher For Tractors
The 3pt Linkage Slasha is a slashing attachment for tractors that can be used for the effective cutting and clearing of grass and low ground shrubbery. Hydraulically driven models are available to fit all CAT 1 and CAT 2 Tractors and come complete with hoses, couplers and 3pt Linkage. Ideal for landscaping, agriculture, roadway maintenance, parks maintenance and general slashing.
3 Point Linkage Features & Benefits
Twin blade, dual rotation, single cutting bar
Two widths available: 1500mm (59') and 1800mm (70')
Chain curtain for debris suppresion
Adjustable height 40mm - 140mm
Optional jockey wheel available
Heavy duty construction - built for Australian conditions
Also available for: mini loaders, skid steer loaders, excavators
Rounded side skids for smoother manoeuvrability over
uneven terrain
Features & Benefits
Digga slashers come packed with practical features as well as cutting edge design. Hover your mouse over the features´ 'plus' symbol on the diagram below to reveal the respective benefits.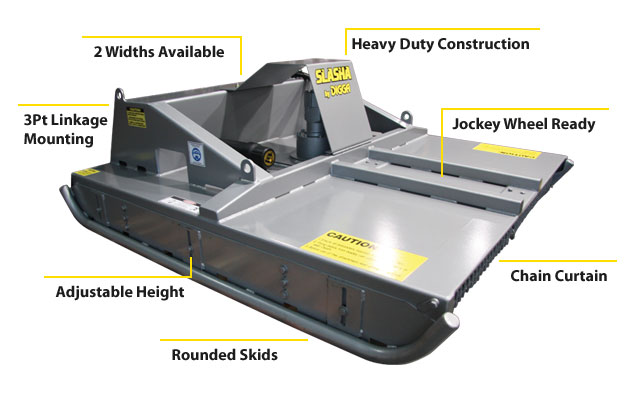 3 Point Linkage Slasher Specifications
| Specification | 1500MM | 1800mm |
| --- | --- | --- |
| Weight | 370 Kg | 490 Kg |
| Length | 1860 mm | 2115 mm |
| Width (Overall) | 1630 mm | 1930 mm |
| Height | 605 - 705 mm | 665 - 765 mm |
| Max Pressure | 240 bar | 240 bar |