X-Series Mini 4 in 1 Bucket
Machine: Mini Loaders, Small Skid Steers
Attachment: X-Series 4 in 1 Bucket
Class: Mini
Australian designed and manufactured using only the highest quality components and materials. Digga has an extensive Mini 4 in 1 Bucket range suited for grading, scraping, grappling, dozing dirt or material spreading, and most construction work.
Full range includes standard and high volume
Grabbing teeth profiled on rear sides for greater grip
Optional chisel and tiger teeth available with pin-on design
Heavy duty 12mm hardened steel floor
Fully welded 1 piece heavy duty 4mm grill/hungry board
Unique rear channel design for maximum hose protection
Cleaning slots allow for easy removal of built-up material around the cylinders
Bucket level indicator which runs parallel with the floor allows operators to easily gauge when the floor is level
Features & Benefits
Digga Mini 4 in 1 buckets come packed with really practical features. Hover your mouse over the features´ 'plus' symbol on the diagram below to reveal the respective benefits.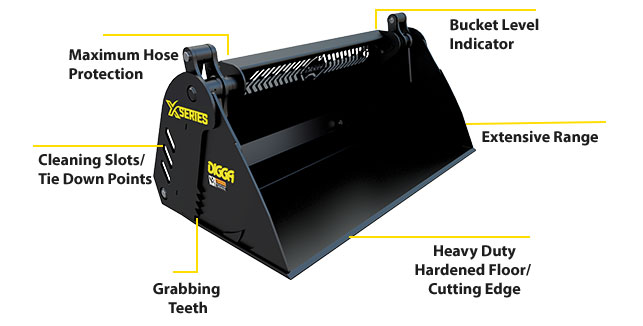 | standard range | 880 mm | 900 mm | 1070 mm | 1100 mm |
| --- | --- | --- | --- | --- |
| Depth (Bucket Closed) | 580 mm | 580 mm | 580 mm | 580 mm |
| Bucket Cutting Width | 880 mm | 900 mm | 1070 mm | 1100 mm |
| Height | 493 mm | 493 mm | 493 mm | 493 mm |
| Weight | 132 kg | 135 kg | 146 kg | 148 kg |
| Struck Volume | 0.09 m³ | 0.09 m³ | 0.11 m³ | 0.11 m³ |
| Heaped Volume | 0.11 m³ | 0.11m³ | 0.14 m³ | 0.14 m³ |
| standard range (cont) | 1130 mm | 1225 mm | 1300 mm | 1400 mm |
| --- | --- | --- | --- | --- |
| Depth (Bucket Closed) | 580 mm | 580 mm | 580 mm | 580 mm |
| Bucket Cutting Width | 1130 mm | 1225 mm | 1300 mm | 1400 mm |
| Height | 493 mm | 493 mm | 493 mm | 493 mm |
| Weight | 150 kg | 156 kg | 161 kg | 168 kg |
| Struck Volume | 0.12 m³ | 0.13 m³ | 0.14 m³ | 0.15 m³ |
| Heaped Volume | 0.15 m³ | 0.16 m³ | 0.17 m³ | 0.19 m³ |
| High volume | 900 mm | 1070 mm | 1100 mm | 1130 mm |
| --- | --- | --- | --- | --- |
| Depth (Bucket Closed) | 655 mm | 655 mm | 655 mm | 655 mm |
| Bucket Cutting Width | 900 mm | 1070 mm | 110 mm | 1130 mm |
| Height | 493 mm | 493 mm | 493 mm | 493 mm |
| Weight | 145 kg | 157 kg | 159 kg | 162 kg |
| Struck Volume | 0.10 m³ | 0.12 m³ | 0.13 m³ | 0.13 m³ |
| Heaped Volume | 0.13 m³ | 0.16 m³ | 0.16 m³ | 0.17 m³ |
| High volume (cont) | 1225 mm | 1300 mm | 1400 mm |
| --- | --- | --- | --- |
| Depth (Bucket Closed) | 655 mm | 655 mm | 655 mm |
| Bucket Cutting Width | 1225 mm | 1300 mm | 1400 mm |
| Height | 493 mm | 493 mm | 493 mm |
| Weight | 169 kg | 174 kg | 182 kg |
| Struck Volume | 0.14 m³ | 0.15 m³ | 0.17 m³ |
| Heaped Volume | 0.18 m³ | 0.19 m³ | 0.21 m³ |