HALO - The future of drilling
HALO is an alignment system located in the hood ring of the auger drive, which provides an operator with a simultaneous clear line of sight to itself, as well as the hole being dug. HALO utilises a band of LED lights, which when fully illuminated green, indicate the drive is plumb. If the drive moves from its plumb position, a sequence of red and green lights will be lit to effortlessly guide the operator back to plumb. Halo is currently available for Digga PDD-PD50 auger drives, and 2 speed Digga auger drives.
---
Why you need HALO
No need for a spotter and spirit level to guide the operator - HALO does not take holidays or sick leave
Never take your eyes off the job
Ensure holes are drilled plumb and reduce the number of in-hole angle adjustments;

- No oversized holes - Reduce the amount of concrete required to fill the hole
- Eliminates sideload on auger drives & augers, potentially causing damage & expensive repairs

Get back to drilling faster after returning the auger into the hole
HALO costs significantly less than traditional systems & eliminates the need for a costly in-cab display
---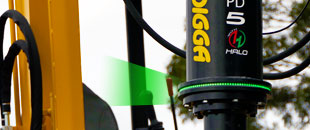 Highly visible indicator
Halo features recessed high accuracy inclination green and red LED indicators, which can be clearly seen in daylight. With Halo, there in no need for an in-cab display screen, and no need to take your eyes off the job to realign your auger.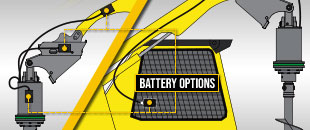 No setup (battery option)
Halo can be connected to the in-cab cigarette lighter, or powered by a magnetised rechargeable battery which will last all day, and can be charged via USB or a 240V wall charger. The battery pack can be attached to the drive hood, frame, machine boom, or placed in-cab.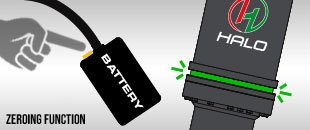 Set angle of inclination
The battery powered option features a 'zeroing' function which lets the operator set the angle of inclination with the press of a button. This feature is ideal for the installation of shade sails.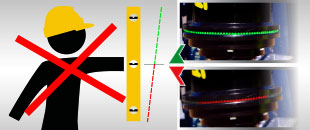 Technology
HALO utilises a microprocessor and 6 sensors to provide accurate readings within +/- 1.5 degrees of plumb - Even under heavy vibration. Effectively eliminating the need for a spotter with a spirit level. The dust/water proof LED ring is also recessed into the hood to protect it from knocks.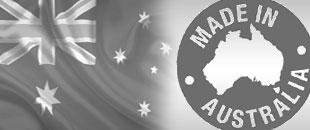 Durable Australian quality
HALO is proudly made in Australia, and has undergone 4 years of development & testing to ensure the unit works faultlessly, and is capable of enduring the rigors of our industry.
---
Standard Halo installation
The standard option is via a cable direct to cab, which draws power from the cigarette lighter power plug.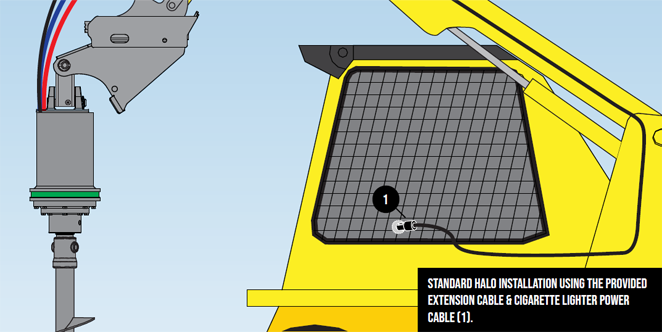 ---
Battery option
Power can also be delivered through an optional battery. With this option, there are no cables being fed back to the cab. As an operator, you can start drilling plumb within minutes.