Heavy Duty 4 in 1 Bucket
Machine: Large Skid Steer Track Loaders
Attachment: 4 in 1 Bucket
Class: Heavy Duty
Digga has been designing and manufacturing machinery Attachments in Australia for over 30 years. Our product quality and innovation leads the industry.
Reinforced pick-up, side plates, and grille
High visibility of front edge
Optional teeth and cutting edges
Dual lock valve
Step for machine ease of entry
20 mm hardened steel floor
Ideal for general bucket work, grading, scraping, grappling, dozing dirt, or material spreading
Features & Benefits
Digga 4 in 1 buckets come packed with really practical features. Hover your mouse over the features´ 'plus' symbol on the diagram below to reveal the respective benefits.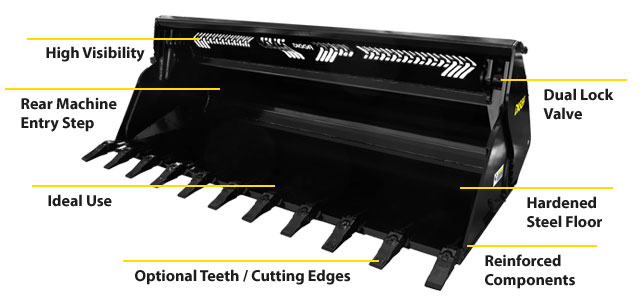 | Heavy Duty range | 1800 mm | 1880 mm | 2000 mm | 2040 mm | 2130 mm | 2200 mm |
| --- | --- | --- | --- | --- | --- | --- |
| Depth (Bucket Closed) | 944 mm | 944 mm | 944 mm | 944 mm | 944 mm | 944 mm |
| Bucket Cutting Width | 1800 mm | 1880 mm | 2000 mm | 2040 mm | 2130 mm | 2200 mm |
| Height | 712 mm | 712 mm | 712 mm | 712 mm | 712 mm | 712 mm |
| Weight | 541 kg | 565 kg | 587 kg | 595 kg | 600 kg | 625 kg |
| Struck Volume | 0.33 m³ | 0.35 m³ | 0.37 m³ | 0.38 m³ | 0.39 m³ | 0.41 m³ |
| Heaped Volume | 0.43 m³ | 0.45 m³ | 0.48 m³ | 0.95 m³ | 0.52 m³ | 0.54 m³ |