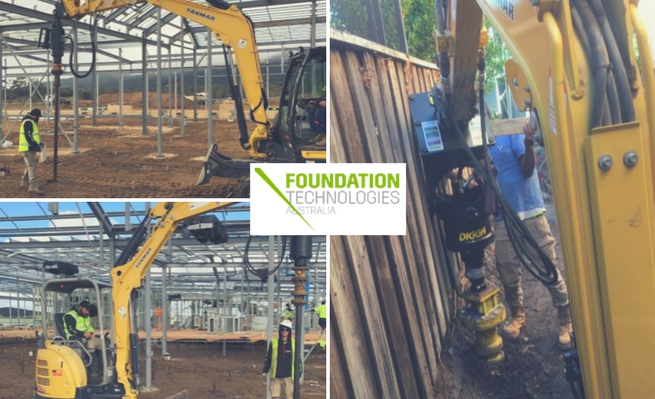 Foundation Technologies make a commitment to Digga
Steve Hassett, Foundation Technologies business owner and co-founder used his first Digga auger drive unit in January 2017 and since then he's never looked back; making a commitment to Digga and their Australian manufacturing.

Starting off with just one machine in 2012, Foundation Technologies now have six machines ranging from 1.7 – 13 tonne excavators, specialising in residential screw piling.

For the last five years Steve has been using alternative machinery attachment brands but following his success with his first Digga purchase earlier this year he has decided to change all of his drives over to Digga.

Steve has been extremely impressed with the technology the Digga drives offer, particularly the 2 speed units (which he now owns 2 of) and he says it's something that the rest of the market doesn't offer...
"The Digga PD12 on the 3.5T Yanmar gives us optimum torque output while being able to help out our clients where access is tight."
Our 2 speed drilling auger drives give a high speed, low torque setting which is ideal for smaller auger jobs when you need the extra RPM, and a low speed, high torque for when you really need to install to a higher toque. Having a greater performance with these 2 speed options gives you more practicality on jobs; it's like having 2 drive units in 1. You can find more information on the Digga 2 speed auger drives on our website here.

Purchasing an Australian brand plays a big part for Steve in his buying decisions especially when he knows his products are manufactured right here in Queensland, "that, with the service offer and the back up support Digga have given me it's all very impressive..."
"The team down here in Melbourne especially have been great, and I've pledged my commitment to Digga Australia to help grow my business!"
Foundation Technologies are the largest contractor of screw piles in Victoria and geared up to supply and install screw piles for the residential building market. Steve Hassett has an expert, direct knowledge of the screw piling industry and dedicated to providing cost effective and fully engineered solutions for his clients that will stand the test of time.

In addition to leading the market in the installation of steel screw piles, Foundation Technologies Australia sponsors a team of young developing cyclists and has been a major sponsor of the Master Builders Association of Victoria for many years. Steve feels a sense of community and giving back to the industry is equally important as having a successful business.

Find out more about our range of two speed auger drive units here: https://www.digga.com/auger-drives.html

Find out more about Foundation Technologies Australia here:www.foundationtechnologies.com.au