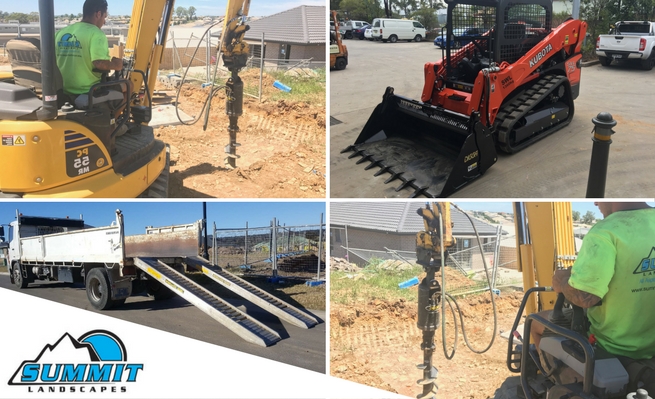 Summit Landscapes in NSW choose Digga Machinery Attachments.
Offering practical solutions for our customers is imperative for Digga and our range of machinery attachments.

Explaining why he choose Digga Machinery Attachments is Mitch Wetton from Summit Landscapes. The local family owned and operated business working in the Smeaton Grange and Narellan areas of NSW specialise in construction landscaping, concreting and all excavation/ bulk earthworks.

In the last 15 years Mitch has grown to love Digga. He had been using a range of Digga attachments through rental companies for several years but felt it was important to invest in his own attachments following successes servicing both small and large builders on a residential and commercial scale.

Mitch purchased his first Digga attachment almost 10 years ago and hasn't looked back since, with his range of Digga attachments growing annually!

He regularly uses his Digga Auger Drive units with rock combo and dedicated rock augers to drill holes for structural piers in concrete and post holes for retaining walls.

He boasts multiple high volume buckets for his Bobcats which are used on a daily basis for earthmoving and digging and he says his Digga Pallet Forks are extremely useful when unloading his trucks and moving materials around his yard.

The Digga Ezi Loader ramps have become an essential part of loading up as well as doubling as a float.

"It's the peace of mind in knowing that the guys at Digga are local and helpful and totally dedicated to their products and service. I've been using Digga machinery attachments for approximately 15 years now and they continue to offer great competitive pricing and practical tools to help get the job done!"
For more information on the range of Digga Machinery Attachments click here: www.digga.com