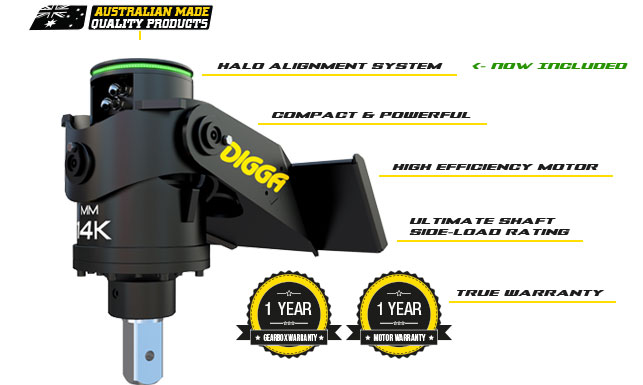 Anchor drives for mini loaders up to 3.5T
Our anchor drives for mini loaders and mini machines up to 3.5 tonnes, have been developed in conjunction with the leading Screw Anchor/Pile installers around the world. Digga's series of compact planetary drives form a comprehensive portfolio for the foundation boring, post hole drilling, screw piling and utility markets. Digga anchor drives are manufactured right here in Australia, specifically for the diverse world-wide landscape.
What are anchor drives?
Find out what screw piles are used for, and what machines you need to install them. Learn the process of choosing the perfect screw anchor drive, and what info Digga uses to determine which drive is perfect for your job!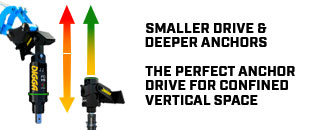 Compact & powerful
A lightweight compact high torque Digga manufactured gearbox will give you the comparable torque of a Digga PD15 drive unit, whilst maximising ease of movement in confined spaces when the boom is up, and provide more length for your screw piles.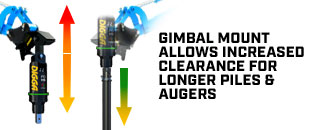 Why use a gimbal mount?
A gimbal mount reduces the overall length of the drilling or screw anchoring setup, by eliminating the machine mount and linkage. This allows machines to work in areas with limited height, whilst allowing for longer augers or piers to be used.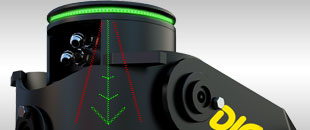 HALO
(coming soon)
HALO is an alignment system located in the hood of the auger, which when fully illuminated green, indicates the drive is plumb. If the drive moves from its plumb position, a sequence of red and green lights will guide the operator back to plumb.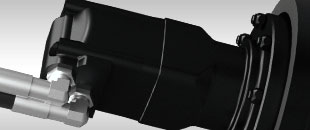 An Industry leader
Utilising over 34 years of design and manufacturing experience, these anchor drives come fitted with a high efficiency Char-Lynn Bell hydraulic motor that can accept up to 25kW, with a maximum pressure of 205bar (at 70lpm), to deliver exceptional power.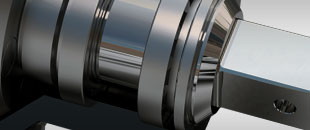 Advanced design
The Digga gearbox utilises a two-piece shaft design, the shaft is a separate component to the planetary carrier, isolating the planetary gears from the pushing, pulling, and bending forces generated by the host machine.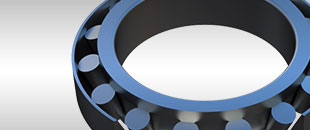 Unmatched side load ratings
More than double the side load capacity of any gearbox on the market. Under torque load, the two piece shaft design ensures there is no increased bearing load, allowing the bearings to efficiently maintain axial and side loading.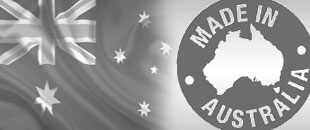 Australian made quality
Digga drive units are made right here in Australia from quality materials. Digga is a proud Australian manufacturer committed to keeping jobs in the country.
| Specification | MM-14K |
| --- | --- |
| Max Torque @ 205 Bar | 14,206 Nm |
| Motor | Char-Lynn Bell |
| Pressure Valve Fitted | N / A |
| Energy Control Valve | N / A |
| Max Pressure | Do not exceed 205 bar @ 70 lpm |
| Max Flow | Do not exceed 70 lpm @ 205 bar |
| Max Continuous Power | Do not exceed 25Kw (33hp) |
| Overall Length | 612 mm |
| Diameter | 289 mm |
| Std Output Shaft | 75 mm Square |
| Weight - Gearbox only | 63kg |
| Weight - Mini Loaders - Standard Mount | 141kg |
| Weight - Mini Loaders - Extended Boom | 206kg |
| Weight - Mini Excavator | 176kg* |
*Weight may vary depending on machine mount