Digga Australia goes global
3 September, 2012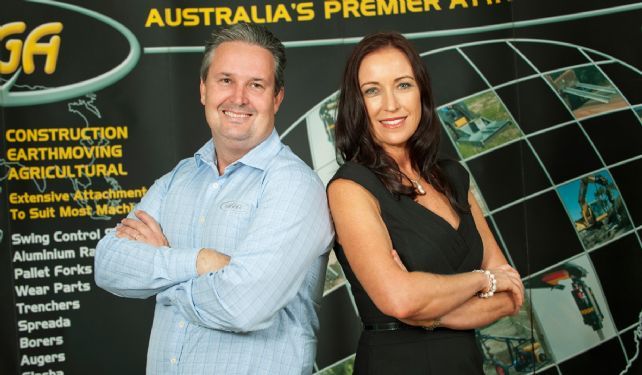 New frontier: Paul Taylor and Suzie Wright, of Digga Australia, which is opening a new US manufacturing arm to build gearboxes and augurs.
AUSTRALIA'S No.1 manufacturer of earthmoving equipment has gone global.

Digga Australia has set up a plant in Dyersville, the US city made famous by the Kevin Costner movie Field of Dreams.

In a similar case of build it and they will come, Digga has invested $2.4 million in a factory that will employ 30 staff and build gearboxes and augers for the growing US excavator market.

The expansion is one of the great manufacturing success stories in Australia, with world-class, Australian-engineered products being exported to the US and Canada, despite high shipping costs and the high Australian dollar.

Digga chief executive Suzie Wright said the improving US economy and industry incentives had given Digga the confidence to expand.

"It's an incredibly exciting time for our company," Ms Wright said.

"This expansion will allow us to grow our US excavator market and as a result we have ramped up production in Australia over the last six months so we can hit the ground running."

Ms Wright said the US was a "manufacturing Mecca".

"The excavator market is one of the most rapidly growing and Digga screw anchor products would be used in construction, fencing, sound barriers, anywhere a hole needs to be dug.

"Our focus is to become a world-class fabricator and assembler so that we can control the quality and give our clients what they need."

Ms Wright said the Dyersville Economic Development Corporation had been proactive in attracting Digga, with a raft of staff training and tax incentives.

"It's incredible what they have offered us in return for employing people," she said.

The company's Australian headquarters at Yatala, on Queensland's Gold Coast, will continue to service the domestic machinery market and will also supply sub-assembly components to the US operation.

Ms Wright will oversee Digga North America, while the group's chief operating officer, Paul Taylor, will manage the Australian business, which employs 200 people.

Mr Taylor said the company would also ramp up its domestic production.

"While it is exciting to be taking our brand to the world stage and to have a base in the US, we see enormous growth prospects domestically in mining and infrastructure," he said.