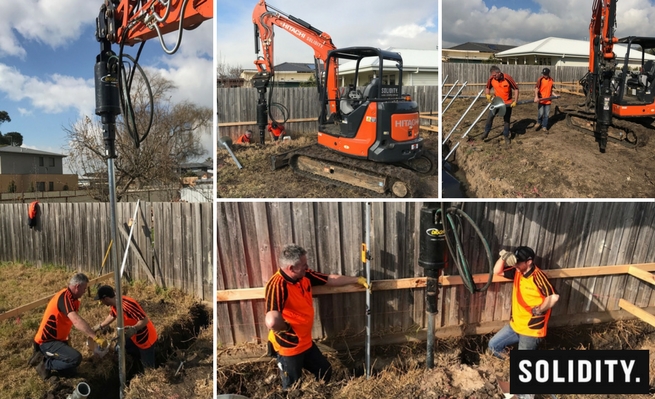 Helical Piling experts give Aussie manufacturing a tick in the box
Coming from a background of small Australian businesses, Brodie and Rob Houghton believe that supporting Australian manufacturing, skills and ingenuity should be top of the list when selecting new machinery attachments.

Brodie and Rob Houghton have over 25 years of experience in small business development, servicing specialist engineering and construction industry niches, including extensive experience in the Residential, Civil and Commercial Construction disciplines. Brodie and Rob are now the Directors of Solidity Pty Ltd specialists in Helical Pile Manufacture and Installation.

Solidity service the entire state of Victoria, with emphasis on areas with swampy or sandy foundations, where Helical Piling provides significant economic and structural benefits over the concrete bored pile equivalent.

The Solidity team operate using a number of different machinery platforms, and have recently purchased a new 5.5T excavator. Each of their excavators is matched to a high torque auger drive unit and a digital torque monitoring device which Brodie says "ensures a reliable and efficient pile installation."

With Solidity's core values centring on quality and service, Brodie isn't prepared to lose focus on delivering reliable and efficient pile installation for his customers when selecting his new machinery attachments. Despite his years of experience with different brands and models of machinery attachments, he still conducts a significant amount of shopping around before choosing the right brand of attachment for him.

"From living through a huge dynamic shift brought about by the downturn in our economy and rise in foreign imports we see the need to constantly strive to support Australian Manufacturers wherever possible. We chose Digga due to their reputation for reliability and their Australian heritage. In the development of Solidity, we see an opportunity to build a business with a core ethos supporting Australian skills and ingenuity and as such, one of the first boxes on our list of criteria when it comes to selecting machinery attachments was the country of origin. Digga ticks that box for us!"

As expected, Solidity undertook further research into Digga and other machinery attachment manufacturers, receiving first word reports from their trusted associates, consulting the internet and seeking advice from third party sales and technical staff. Brodie explained that in the end,
"It was countless anecdotes from associates in the industry which helped to confirm claims of reliability made by sales staff from various machinery resellers that cemented the decision to use Digga attachments exclusively as our business grows."
Solidity Pty Ltd paired their new 5.5T Hitatchi ZX-55U to a Digga PD12 Auger drive, with RC8 Rock Drill and a Digga Pressure Differential Gauge and told us that they have been extremely pleased with the all their new Digga gear so far.

Thanks to the unique Digga/Eaton bell motors used in the Digga drive range, the PD12 produces significant torque outputs which Brodie believes to be suitable for almost all residential screw piling applications and adds that
"The real benefit for selecting the PD12 for us is having the confidence to put the drive to work every day without the worry of failure or malfunction."
The Solidity team have already been using their drive daily along with the Digga Pressure Differential Gauge. Designed to give you greater accuracy in your work, Brodie explained that the gauge has really helped him and his team to reliably and accurately compile loading correlation charts based on the dynamic load testing of their products, cross referenced to installation torque calculations.
"By using the Digga Pressure Differential gauge, we take away any and all guess work from our process – ensuring our installations are performed correctly every time."
By helping to ensure a higher degree of quality control throughout their projects, the Pressure Differential Gauge has allowed Solidity to reduce risk factors in their operations, which in turn have generated savings that they have passed onto their clients.

Every product in the Digga range of machinery attachments has been designed and built for the varying Australian conditions, providing customers with our uncompromised dedication to high quality, competitively priced, Australian manufacturing, something which Solidity put their trust in,
"Given that the Digga products we purchase are all Australian Made, we take solace in the notion that if any issues were to arise with any of our purchases, parts and expertise are only a phone call away, giving me even more peace of mind!"
Solidity not only install steel Helical Piles, but they also have an Australian Manufacturing facility where they manufacture Helical Piles, Anchoring Systems and specialty Pile Cap Modules to make the subsequent stages of construction as simple and efficient as possible. The business manufacturers their products in-house, giving them the benefit of being able to design and produce to any specification. They also have the ability to manufacture and supply a range of pre-designed solutions for connection detail. To find out more information on Solidity visit there website here: Solidity Pty Ltd

For more information on the Digga Auger Drive range visit www.digga.com/auger-drives.html
For more information on the Digga Pressure Differential Gauge click here: www.digga.com/pressure-differential-gauge.html