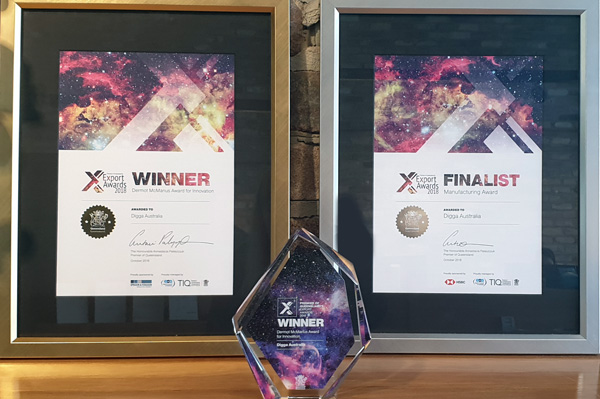 Digga recognised with Export Award
Digga Australia, a leading manufacturer of earthmoving attachments and mini loaders, today announced that they were awarded the "Dermot McManus Award" for innovation at the annual Premier of Queensland Export Awards. The event, in its 29th year brings together Queensland's top companies whose products are exported around the world.
Digga Australia, who started from humble beginnings in 1981 now distribute their machinery products through more than 450 dealers in over 50 countries. Product manufacturing and distribution is supported through 3 company owned facilities in Australia, one in the United Kingdom and one in the USA.
"We're honoured to have received this award and to have been nominated as a finalist in the manufacturing award" said Alan Wade, Digga's CEO when asked on his thoughts on about the win. "It's a credit to all our staff who work so hard to keep Australian manufacturing alive. From design to manufacturing and shipping products to all corners of the globe" he added
While Digga manufactures over 70 different types of machinery attachments such as auger drives, trenchers, augers, brooms and pallet forks for skid steer loaders, tractors and excavators as well as manufacturing the Kanga mini loader, only a few products are currently exported. "We're excited about the future, the US and Europe markets are showing good growth through the development of your dealer networks and the expansion of our product offering in those regions." said Alan.