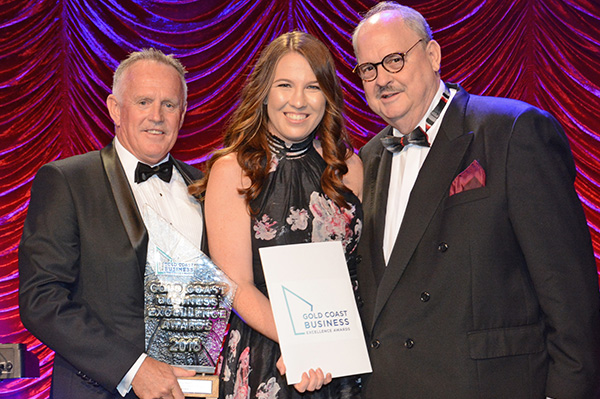 Digga Recognised with a Gold Coast Business Award, NOVEMBER 2018
On Saturday night, Digga Australia were awarded "Gold Coast Manufacturer of the Year" at the annual Gold Coast Business Excellence Awards.
Digga manufactures over 70 different types of machinery attachments such as auger drives, trenchers, augers, brooms and pallet forks for skid steer loaders, tractors and excavators. Digga's products are exported to over 50 countries and sold through a network of 450 dealers and distributors worldwide.
"We're honoured to be presented with this award, it recognises the hard work our staff put into keeping Digga at the forefront of product innovation and quality, while supporting local manufacturing and helping keep jobs in Australia" said Alan Wade, Digga's CEO.
Digga employ over 230 staff and operates 5 facilities around the world with its head office and main manufacturing facility based on the Gold Coast. The 12,500sqm purpose built factory features one of the largest state-of-the-art machine shops in Queensland which supplies the majority of the componentry used by the other facilities.
Over the past 12 months the company has continued to invest in new manufacturing technologies to further improve production efficiencies and product quality. Digga have also released new products into Australian, European and US markets
See a video of our Gold Coast facility here.
To view the results of the Gold Coast Business Excellence awards for 2018, please click here.