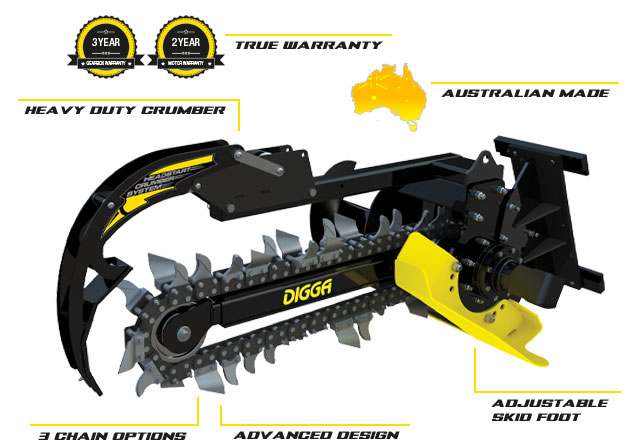 ---
Trenchers for machines up to 4.5T
Ideal for excavators up to 4.5 tonne, skid steer loaders, tractors, and mini machines, the Bigfoot Trencher can be used for pipe laying for irrigation, underground power & communications, road repairs, general construction.
Product insights
Why use a trencher, and how do they differ from the traditional excavator, or backhoe bucket? Listen in to some tips on how to improve your trenching performance, and how to maintain your equipment.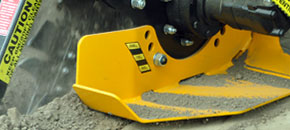 Adjustable depth skid foot
Precision depth control ensures the spoil auger has optimum ground clearance. Take advantage of every bit of valuable horsepower when trenching. Preset depths: 600 / 750 / 900mm.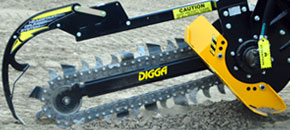 Heavy duty crumbing system
Start trenching with the crumber in-ground. A super heavy duty spring ensures the crumber stays engaged with the bottom of the trench for maximum spoil removal from start to finish. View animation.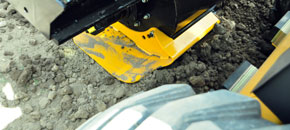 Skid foot can be seen from the cab
The new design foot can be clearly seen from the cab and allows the operator to see when the trencher is in the correct trenching position. No need for a spotter.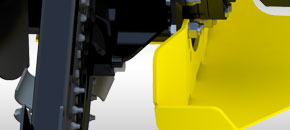 A cleaner work-side of the trench
Digga's new foot design also feeds overburden back onto the chain, transferring it to the spoil auger for a cleaner clearer work side of the trench.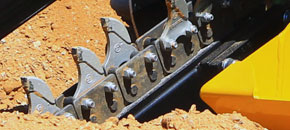 Anti-back flex chain design
You can be guaranteed of quality and superior performance with our Anti-back Flex design. It prevents the chain links from flexing back in tough soil conditions.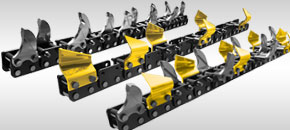 Trench in all ground conditions
Available in a number of different tooth configurations for trenching in soft ground, mixed grounds and even permafrost so you can get the job done no matter what environment you are in. See chain options.
---
Chains for all ground conditions
EARTH - Best used in soft ground like earth and clay
COMBINATION - Best used in dry, hard or medium ground conditions
TUNGSTEN - Best used in hard or frozen ground conditions and asphalt
| Specification | 900 |
| --- | --- |
| Cutting Width | 100 / 150 / 200 mm |
| Foot Depth Presets | 600 / 750 / 900 mm |
| Hydraulic Flow | 50-95 lpm |
| Motor Size | 2K Bell EATON |
| Max Pressure - Do not exceed | 240 bar @ 60 lpm |
| Max Flow - Do not exceed | 95 lpm @ 200 bar |
| Max Continuous Power | 25 Kw (34 hp) |
| Length | 1920 mm |
| Horizontal Height | 668 mm |
| Width | 1212 mm |
| Weight - With a 150mm Combo Chain | 261 kg |
---
Related Products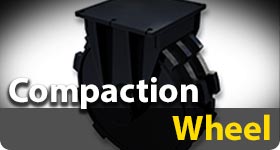 Ideal for compacting dirt back into the trenchers
Available in 4 trencher widths
Suitable for 3.5 - 8 tonne excavators
Heavy duty durable hammers